Why choose B9?
Our approach
The complete well-being of our patients is our mission: nothing less will do. We get professional satisfaction from providing the very best dental treatments – and also from receiving compliments from our patients!
We provide a caring service with a personal touch, which gives our patients peace of mind, and reduces their stress and anxiety.
Our services
We cover all major dental treatments which include – tooth surgery, gum surgery, root canal treatment, crowns and bridges, dental implants, dentures, teeth whitening services, fillings, scaling and polishing.
Our services include aesthetic dentistry as well as oral surgery.
And of course, we handle emergency cases, wherever there is trauma or pain.
Aesthetic dentistry
This is also known as cosmetic surgery, in which our treatments amend the look of a patient's teeth and gums. Services such as dental implants, braces, crowns and bridges, veneers, teeth whitening and dentures are all accessible to our patients.
Oral surgery
Our dentists are trained to carry out different types of oral surgery – including wisdom teeth extractions, root canal treatments, bone grafting and sinus lifts. For more information about oral surgeries, kindly take a look at our dental videos.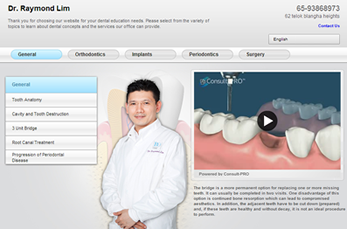 Children's dentistry
Our specialists treat children of all age groups. They are also friendly and caring in their approach, so as to reduce anxiety whenever possible.
Consultation services
We will always give you the most applicable advice for your situation. We can detect a number of conditions at an early stage, which include teeth grinding and gum disease, to avoid a more serious problem developing.
Singaporean residents can avail of Medisave for certain treatments like wisdom teeth extractions.
Read our full menu of treatments
Our dental centres
All our dental centres are uniquely designed to be modern, comfortable and relaxing spaces. We have included user-friendly features such as TV screens for our patients to watch during their treatment.
Strict hygiene control is something we insist on, and only the highest-quality materials and equipment will do.
Read more about our dental centres, and plan your visit accordingly.
Our technology
We have a range of new equipment, to help our dentists accomplish high quality diagnosis and successful treatments for our patients:
• Cone beam computed tomography (or CBCT) – a highly advanced imaging technique that is used in the medical and dental industry
• Intraoral camera – a portable handheld camera that takes extremely detailed images of the mouth, teeth and gums for diagnosis by our dental team
• KaVo i-CAT tomography 3D e-Xam – the very latest equipment which gives high definition 3D images in x-ray form, whilst using less radiation
• Zoom whitening – we are of the opinion that Philip's Zoom whitening technology is the best in the world
We'll be more than happy to show you any of our equipment, and explain exactly what it does.
If you have any questions, please contact us.